There are many ways to lose fat that you don't want. The healthiest and most natural ways to lose weight are diet and exercise. Unfortunately, these natural ways to lose weight can only lead to the same results every time.
More importantly, they can't just get rid of fat in one place. People can use fat freezing, liposuction, or liposculpting to get rid of fat in specific areas. Fat-tightening procedures don't involve surgery meant to give the same results.
But none of these treatments can tone the areas where fat is lost in a very targeted way. So, BTL Body Sculpting comes into play. This new technology uses high-intensity, focused electromagnetic energy to quickly tone the buttocks and abdomen.
It also helps build a lot of new, lean muscle and helps you lose a lot of fat. Join us here at Eden Medical Spa to discover more about how to slim your body this winter with this treatment.
Who is BTL Body Sculpting Good For?
This procedure suits anyone who wants to change their bodies in a way that dieting and working out can't. This treatment can eliminate layers of fat that keep others from seeing the results of all your hard work at the gym.
It can tone parts of your body that even the best workouts haven't been able to firm or lift. This treatment is the best way to get the perfect body, from lifting and tightening the buttocks to getting abs as strong as steel.
It works with the limitations of uniform, natural fat reduction and allows patients to produce dramatic changes in their body shapes and proportions. The best part is that it doesn't require any cuts, recovery time, or care afterward.
You don't even have to miss work to complete this procedure. After your 30-minute session, you can return to what you did before.
How does it work?
Technologies are applied to the affected part as needed. This is done by attaching the BTL appliance to the patient's targeted treatment area. Once this device engages, the electromagnetic energy it delivers will cause the local muscles to contract quickly.
This quick flexing is like doing many sets of toning exercises like squats, lunges, abdominal crunches, or sit-ups. In just 30 minutes, it will give you a workout that is better than what the average person can do at the gym in a week or two of hard work.
These rapid contractions don't just firm existing muscles up; they also incite rapid fat loss while significantly boosting the patient's calorie requirements.
BTL Body-sculpting services at Eden
Medical Spa
BTL VanquishTM is a way to eliminate fat on the stomach, sides, upper back, and thighs without surgery. The treatment is non-invasive; no incisions will be made during your appointment.
Instead, a particular device will be put on top of the area to target the fat without touching the skin. Most people lose between 2 and 4 inches around their waists after just one treatment. With this treatment, there is no chance of unevenness, pain, recovery time, or other side effects.
Exilis, on the other hand, is the first and only device that simultaneously uses radiofrequency and ultrasound for skin tightening and body contouring. It doesn't hurt, doesn't hurt anyone else, and is the most advanced non-surgical solution.
Exilis is perfect for people who want to make their face and body look better without having surgery. Some places you can treat are around the eyes, the chin, the mouth, the jawline, the arms, the legs, the décolleté, the knees, the ankles, the buttocks, the stomach, and the love handles.
How is a BTL Emsculpt Procedure Performed?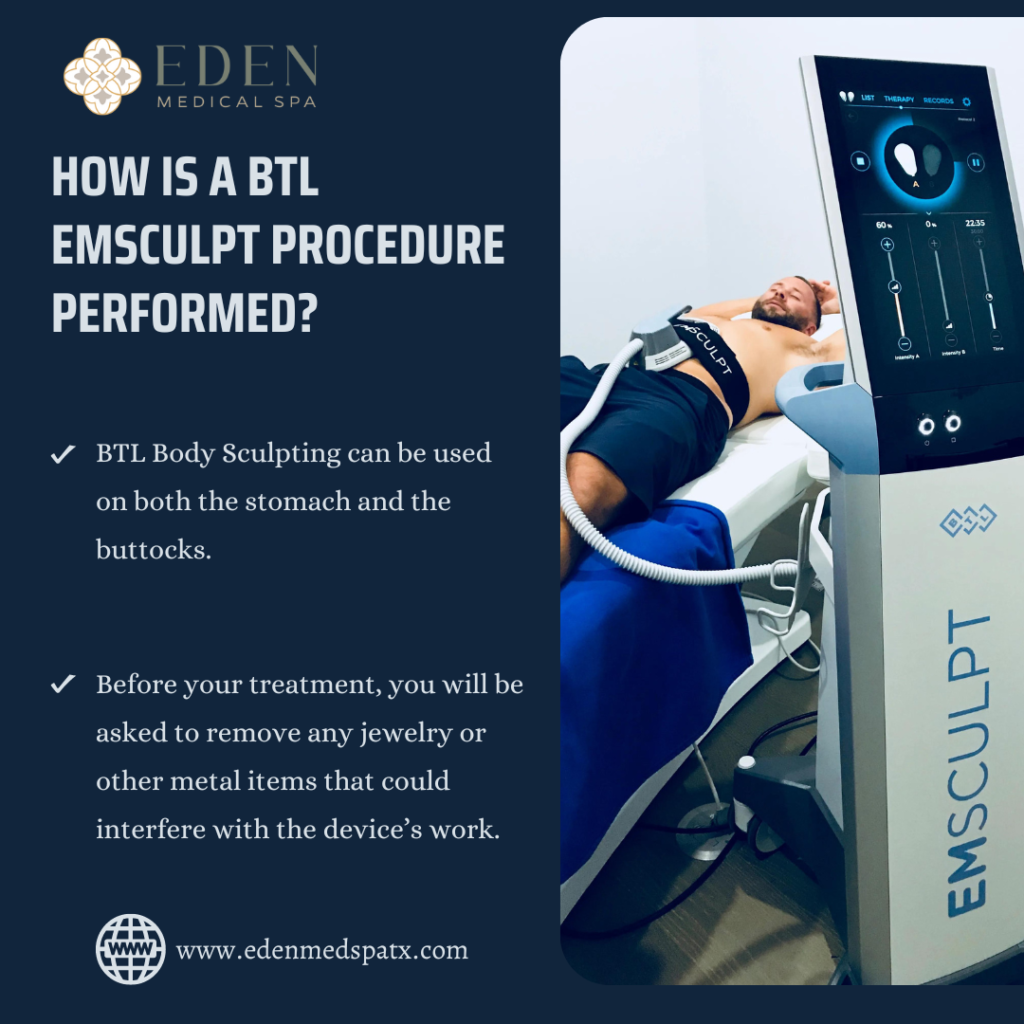 BTL Body Sculpting can be used on both the stomach and the buttocks. Before your treatment, you will be asked to remove any jewelry or other metal items that could interfere with the device's work.
During your procedure, the device will be put right on top of your problem area and then turned on. As soon as the electromagnetic waves are sent out, the muscles in the area will start to contract quickly.
What to do after your session?
Since this procedure isn't painful or invasive, most people return to work as soon as they're done. After a treatment, it's common to have mild muscle soreness, just like you would after a lot of strength training. It's normal, and it should go away in a few days.
Two to six weeks after your procedure, you'll see results as your body fixes the damaged tissues and builds new, leaner muscles in the treatment area. You will still see more results up to six months after your procedure.
Are BTL Body Sculpting Results Permanent?
Because the body can't do the same ultra-fast and ultra-intense contractions that this device does, you can't do the work that gives you results on your own. Because of this, much of the new muscle this procedure builds will slowly waste away over time.
Patients can always set up ongoing maintenance schedules to stop this from happening. Once you've reached your ideal body with this treatment, it won't be hard to keep it up.
How many times will I need Body Sculpting?
Since everyone has different needs, treatment plans are made for each person individually.
Why Choose This Weight Loss System?
Even though there are many ways to get rid of extra fat, not all of them are guaranteed to make you look better; with fat-freezing and lipo, the muscles are not affected in any way.
This makes the treated area look thinner but doesn't help people look fit and healthy. While BTL Body Sculpting is working to tone your targeted areas, it is also getting you ready to lose a lot of fat immediately and over time.
This makes the muscles contract quickly, which burns many calories in a 30-minute session. Also, you'll build strength, quickly making you need more calories daily. As your body creates new muscles, it will need much more fuel to support them.
This also makes it much easier for people on a diet to create the calorie deficits that lead to weight loss. It also removes the fear of putting on weight again.
Lean bodies with lean muscle are more likely to stay lean than skinny bodies without much definition or tone. BTL Body Sculpting is a great choice, with a 16 percent average increase in lean muscle mass.
Schedule your appointment today
If you're interested in BTL Body Sculpting, contact us or book an appointment with our team here at Eden Medical Spa. We're here to help and guide you through your weight loss journey with BTL!