Dermal fillers treatment in Cedar Park & Austin, TX
Dermal fillers treatment in Cedar Park & Austin, TX
Dermal fillers treatment are cosmetic gels that can be injected under your skin. There are many different types of dermal filler, each made from other ingredients, such as collagen or hyaluronic acid. By injecting one of these materials into your skin, your body's collagen production is boosted.
This will result in a more youthful appearance by improving fine lines and wrinkles, enhancing your facial features, and adding volume to areas that have lost their elasticity over the years (giving you a more contoured appearance).
What are dermal fillers?
There is a type of injectables that can correct facial wrinkles and folds or add volume to the lips or cheeks. A dermal filler is a soft and pliable substance injected into the skin.
There are many different types of this product, each with its characteristics: some last longer than others, while others have more natural results.
Why are dermal fillers used?
Dermal fillers treatment can be used to correct wrinkles and folds around the mouth, nose, and eyes.
Fillers can be used to restore lost volume in your face. This includes cheeks, lips, and under-eye areas.
Fillers can also help reduce acne scarring on the face.
There are many more uses for dermal fillers than just these three broad categories of correction; however, these are some of the most normal reasons why people seek this treatment at a dermatology office like ours!
Dermal fillers treatment are used to treat wrinkles and other signs of ageing. They are completed from hyaluronic acid, a substance naturally found in your skin. There are various types of dermal fillers available today. These include the following:
1. Hyaluronic acid (HA)
Hyaluronic acid dermal fillers are made from this substance, which is then injected into your skin to add volume and smooth wrinkles.
It contains varying concentrations of hyaluronic acid that can be customized depending on a patient's needs. As the hyaluronic acid breaks down over time, it stimulates your collagen production to keep your face looking refreshed long after treatment has ended!
2. Polyalkylimide
Polyalkylimide dermal fillers are a trendy choice for cosmetic procedures, as they are often the best option for patients with sensitive skin and allergies to other materials.
Polyalkylimide is made from aliphatic polycarbonate-urethane copolymers that have been specially formulated to be non-toxic and biocompatible.
3. Polylactic acid
The second type of dermal filler is called polylactic acid, and it's also a biodegradable material. Polylactic acid dermal fillers are used to fill wrinkles and folds of the face, including nasolabial folds, marionette lines, and turkey-neck skin—all signs of ageing.
Polylactic acid can be injected into the lips for volume enhancement because it does not migrate out from under the skin after injection as other materials do.
4. Polymethyl-methacrylate microspheres
Polymethyl-methacrylate microspheres, or PMMA microspheres, are a type of dermal filler. These small, spherical particles can be injected into the skin to fill wrinkles and folds.
The PMMA microspheres are made from acrylic resin and have been used to treat under-eye bags and fine lines everywhere in the mouth and lips.
What happens before a dermal filler procedure?
A doctor must thoroughly examine a patient.
The doctor will take a medical record & perform a physical examination.
The doctor will discuss the procedure with the patient.
The doctor will explain the risks & benefits of the dermal filler process.
The doctor will discuss expectations for how soon results should be visible, as well as what is realistic to expect from dermal fillers over time.
What happens during a dermal fillers treatment in Cedar Park & Austin, TX?
To begin, a trained professional will inject a numbing agent into the area to be treated. Next, they'll use a cannula (a thin tube) to inject dermal fillers into the correct places. The total process takes about 30 minutes and is done in several steps:
Step 1
Cleaning the area with an antiseptic wipe
Step 2
Injecting anaesthesia and numbing agents into the skin (this step can take anywhere from 3 to 5 minutes)
Step 3
Applying a topical anaesthetic cream to prevent any discomfort during injection procedures.
Step 4
Inject dermal fillers slowly into the wrinkle lines using small, circular motions (this step can take anywhere from 10 seconds per spot up until 4 minutes per area, depending on the size of the treatment).
What happens after a dermal filler procedure?
After the procedure, you may knowledge some swelling, bruising, and tenderness. Depending on your body's response to treatment, this can last for several days to more than a week.
Aftercare pedagogy will be given to you by your practitioner before the procedure and again after treatment.
In most cases, patients are advised not to apply makeup or wear contact lenses in the area of injection for at least 24 hours after dermal filler injection. Also, avoid sun exposure on treated areas while healing (about one week).
What precautions should I take before getting fillers?
Before having fillers, you should ensure you are in good health.
Additionally, it's essential to be aware of any active infections affecting your body.
If there are open wounds on your face when getting fillers, they need to heal first before receiving injections, so they do not become infected during treatment."
What are the possible side effects of fillers?
Side effects of fillers are generally temporary but can be severe.
Side effects that are not common include:
Pain & swelling at the injection site
Redness or bruising around the injection site
A lump under the skin at your injection site. This happens in less than 1% of people with filler injected into their face (called an acne cyst).
Advantages of dermal filler procedures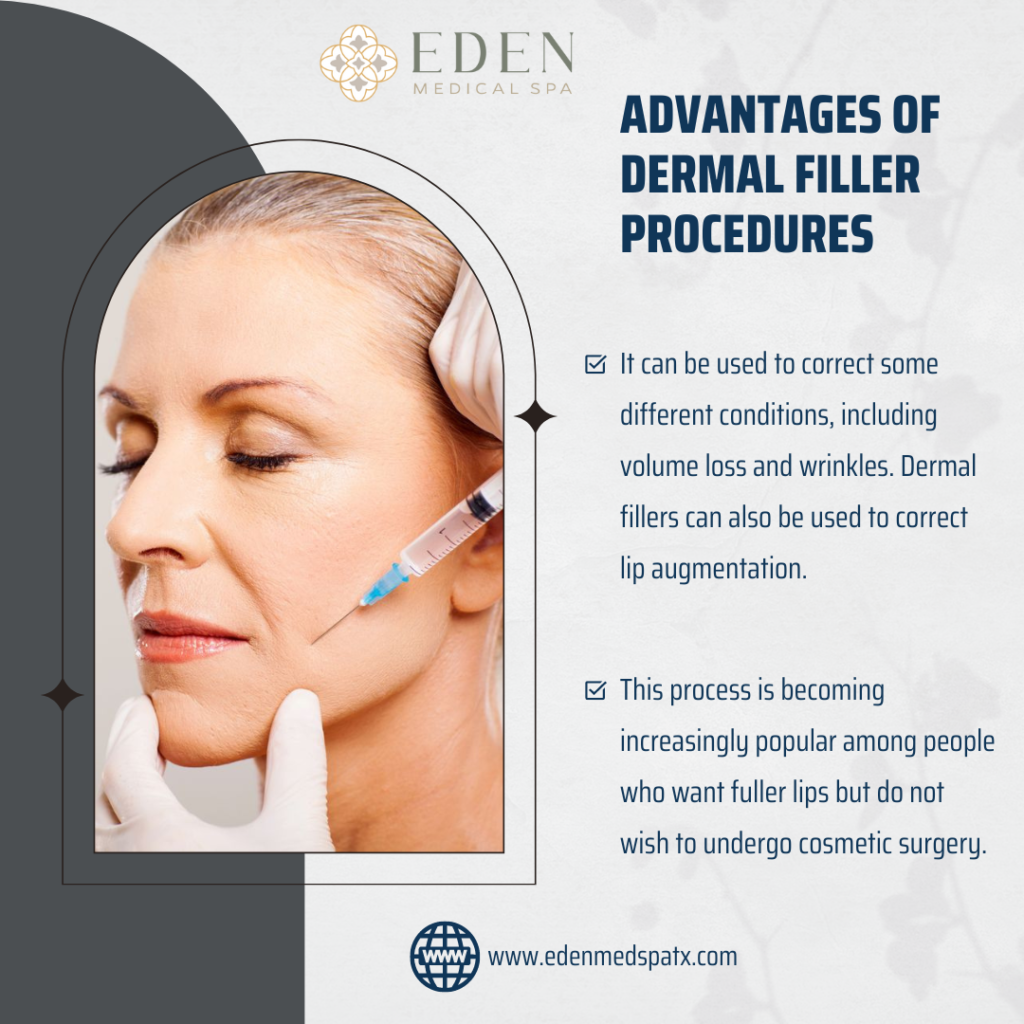 It can be used to correct some different conditions, including volume loss and wrinkles. Dermal fillers can also be used to correct lip augmentation.
This process is becoming increasingly popular among people who want fuller lips but do not wish to undergo cosmetic surgery.
Cost of dermal fillers treatment in Cedar Park & Austin, TX
The average cost of dermal filler treatment in Cedar Park & Austin, Tx, can cost anywhere from $500 to $1,000 per syringe.
The amount you pay for your treatment will depend on the type of dermal filler you choose and your provider's practice costs and overhead.
Conclusion
Dermal fillers treatment effectively reduces the appearance of wrinkles, lines, and creases on your face. They can also contour and shape your nose, cheeks, or chin. Our patients have been elated with their results from dermal filler procedures, which typically last for six months or more before needing to be repeated.
FAQs
How long do dermal fillers last?
It is essential to note that dermal fillers treatment last for differing amounts of time, depending on the brand and type of filler used. Some fillers can last for as little as two months, while others can last as long as five years. The average lifespan is somewhere between six months and two years.
Is it good for your skin to have dermal filler treatment in Cedar Park & Austin, TX?
Dermal fillers treatment are cosmetic products that help to restore volume to the skin. They also help to smooth out wrinkles and lines and improve the appearance of scars.
It can reduce or eliminate acne scars caused by a break in the skin that leaves behind an indentation on the surface of your skin.
Are dermal fillers Better than Botox?
Dermal fillers treatment are a great alternative to Botox because they can be used to treat a broader range of conditions than Botox. Dermal fillers can help you with wrinkles, smile lines, facial folds, and more.
They're also great for patients who want to avoid surgery or other cosmetic procedures.
Are dermal fillers treatment permanent?
Dermal fillers last for a few months. They can be used as a provisional solution to improve the appearance of the face or lips but are not intended to be permanent.
Do dermal filler treatments make you look younger?
Yes, dermal filler treatment can help you look younger.
Dermal fillers are a safe, effective way to smooth wrinkles and folds. They can also correct deep nasolabial folds, marionette lines, or smile lines around the mouth.
How joint are dermal fillers?
It is currently the most popular non-surgical cosmetic procedure, with more than 100 million treatments performed since 2018.
It works by adding volume to facial structures that have lost their shape or volume with age or injury. The results can be dramatic trusting on how much filler is used in any given area.
Who should avoid dermal fillers?
People who are allergic to the ingredients.
Those who have had earlier bad reactions to dermal fillers.
Those who have had bad reactions to Botox, hyaluronic acid, or polylactic acid injections (the most common substances used in dermal fillers).
What is the recovery time after getting it?
Dermal fillers can be performed in the office, so there's no need for an overnight stay. Most patients can resume ordinary activities the same day, but avoid strenuous exercise, and heavy lifting is best until you've entirely healed (typically 2-3 days).
Is it painful to have dermal filler treatment in Cedar Park & Austin, TX?
Dermal fillers are insinuated into the skin with a needle, syringe, or cannula. There is no pain during the procedure as you will be sedated and/or numbed by local anaesthesia.
Eden Medical Spa: Best Medspa to get Dermal fillers treatment in Cedar Park & Austin, TX
Looking for the best medspa to get dermal fillers treatment in Cedar Park & Austin, TX, look no further than Eden Medical Spa! We are devoted to giving our clients the best possible experience and results.
We use the latest techniques and products to produce beautiful, long-lasting results. We treat you to the best aesthetic treatments and services in Cedar Park & Austin, TX. Please contact us today to schedule a consultation.